Links Of Interest
Click on the links below!
Meet rascal Hawaiian cat, Pookie, and his feline friend, Princess, and their fascinating friends in this modern Hawaiian Mo'olelo about aloha, friendship and caring for the land and the water. Adults and children can read it together and learn many Hawaiian words along the way. When you get to the Amazon.com site, type in POOKIE MEETS THE PRINCESS. The book is for sale as an Amazon Kindle download.
Take yourself on a journey to Hawaii's rain forests and meet Hawaiians who reconnect to their culture and spirituality by reconnecting to the land.

The documentary film HAWAIIAN HEALING, illuminates the countless ways healing is woven into the culture and daily lives of Hawaiians. It includes one of a kind interviews with some of Hawaii's most beloved kupuna, healing practitioners, and entertainers. It was screened at the HAWAII INTERNATIONAL FILM FESTIVAL and around the world.
Visit John Kalani Zak's store to purchase unique photos, clothing, and gift items. Be the first to own a "Live Lomilomi" or a "Live Pono" All cotton Tee shirt! Add a "Live Lokahi" or a "Hawaiian Plumeria" mug to your cart. We even have Teddy Bears!
"Hawaiian Meditations" is a film that takes you into a Hawaii of peace and healing energy, through a powerful guided meditation, along with interviews with lomilomi proacitioners, Dane Kaohelani Silva, and Brenda Ignacio.
Enjoy a recent review of HAWAIIAN HEALING from the University of Hawaii at Manoa. The reviewer recomends the film for schools and libraries.
This online store, created by Phil and Maria Gray, is a veritable candy store for yogis, healers, and meditators. Supreme Swan offers beautiful hand-made items for meditation, contemplation, and inspiration, including genstone malas, meditation cushions, jewelry, music, and many other beautiful items. SUPREME SWAN is the exclusive distributor of SOULCARDS - healing and inspirational note cards featuring images from photographer, John Zak - Click in and have a browse around!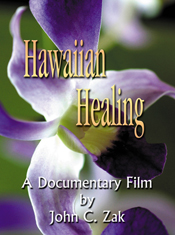 View a clip from Starz Movie Network, featuring films devoted to issues on the environment. Clip includes a brief interview with John Zak on his film PULE WAILELE - HAWAIIAN WATERFALL PRAYER.
When in Kailua, on O'ahu, a healing visit to Lomilomi Hana Lima Spa is a must. Treat yourself to a facial, lomiomi massage, hot stone treatment, or a refreshing aroma therapy steam bath. Owner/manager, Eri Mahealani Virden, a lomilomi practitioner and teacher, is one of the most popular massage experts in Hawaii. One could say she has a presidential seal of approval! Stop in!
Learn about the inspiriational teachings of Paramahansa Yogananda.
Kahu Dane Silva is a world-recognized teacher of Hawaiian medicine and massage. He teaches from the ancient wisdom of his Hawaiian roots while also being in touch with the cutting-edge knowledge of current Western and Chinese approaches. Anyone seeking to learn from a genuine Hawaiian Master, should contact him to inquire about workshops and classes.